March 27, 2020
VENTFLASH #267
Dear friends:
The Coronavirus pandemic is among the most serious crises that any of us has ever faced. At VENT, our main concern is the health and well-being of you and your families and of our tour leaders and office staff, as well as everyone else. We will get through this crisis, but for anyone who runs a business, this is a very challenging time. I am confident that VENT will emerge from this difficult time stronger than ever.
The strength of VENT comes from the support of the wonderful people who join our tours and from our superb office staff and tour leaders who do all they can to provide our travelers with the best possible experience. Many of you have traveled with us for years. For example, Sam and Liz Febba were on our recent cruise: The Lesser Antilles aboard the Sea Cloud. Their first VENT tour was forty years ago; since then they have been a part of twenty VENT tours! Many of our clients regard the leaders they have traveled with as friends. I can assure you, that feeling is mutual.
In this issue:
VENT IS OPEN FOR BUSINESS!
NEWS FROM RECENT TOURS
2022 TOUR SCHEDULE UPDATE
CLOSING THOUGHTS
As we are all obviously aware, the rapid escalation of events resulting from the Coronavirus crisis is presenting great challenges to society. Depending on where one resides, many of us are facing restrictions of varying degree regarding our ability to move around. As you probably know, a number of states in the country have advised businesses to close and employees to be sent home to work remotely. An array of terms in use to describe spending most or all of one's time at home includes "self-quarantine," "self-isolation," "social distancing," "shelter in place," and "lockdown." In the spirit of doing what we can to ensure the well-being of our employees, VENT has closed its office here in Austin, Texas and assigned its staff to work remotely from home indefinitely. This is important information for you to have because although the office will be closed, you should know that VENT most definitely remains open for business! In fact, through this crisis, we continue to receive registrations for tours departing in the future, by which time the crisis will have abated. As always, you can reach us by email (all of us here still have access to our "@ventbird" email addresses). You can also reach us by phone (512-328-5221 or 800-328-8368). When making a call, you will hear a general greeting, at which time you can reach the voice mailbox of any of our staff members. All of us have the ability to check our voice messages regularly. We will return email and voice messages as promptly as we can, but we ask for your patience as the ongoing situation is causing widespread disruption.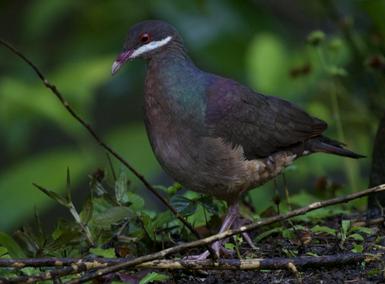 Bridled Quail-Dove, 

Guadeloupe​

© David Ascanio
In the first half of March, I co-led a birding and nature cruise in the Caribbean, The Lesser Antilles aboard the Sea Cloud. Once again, this special trip was a success. In visiting Barbados, Dominica, Guadeloupe, Martinique, St. Lucia, and St. Vincent, we were treated to plenty of lovely island scenery and superb birding and natural history. Although the birding on these islands is a challenge, in that there are many endemics to seek, we did remarkably well, with outstanding views of many species of birds found nowhere else, including an array of parrots, woodpeckers, hummingbirds, flycatchers, thrushes, thrashers, tremblers, bullfinches, and more. My favorite moment occurred on the island of Guadeloupe, where we watched a Bridled Quail-Dove walk to within twenty feet of our group, enabling us to savor the beauty of its colors including the green iridescence of its neck.
When not in the field, we enjoyed wonderful presentations onboard the ship by our historian, John Harrison, and botanist, Peter Zika. Even one of our participants got into the act, with Robert Fox, a retired geologist, delivering a presentation on the geology of the Lesser Antilles. At the end of the trip, I delivered a lecture entitled Birds and Life.
We have operated this trip every other year for the last ten years, although our history with this special trip goes back about 25 years. Our repeated visits to these islands through the years have allowed us to develop friendships with a cadre of excellent local guides who help make this trip such a success, including Jean Bertrand (Dr. Birdy) on Dominica and Adams Toussaint and Valance "Vision" James on St. Lucia.
The Lesser Antilles aboard the Sea Cloud will operate again in 2022, probably in March. We will have official dates established by the middle of April. Until then, please contact Tour Operations Manager Greg Lopez by email (greg@ventbird.com) for more information.
The lagoon in front of Crooked Tree Lodge, Belize ©​ Barry Zimmer
Although cut short by travel restrictions resulting from the current crisis, Barry Zimmer's Best of Belize tour was once again a great success. The water levels at Crooked Tree Wildlife Sanctuary were perfect. As a result, for the second year in a row the water bird spectacle was fantastic. As always, the birding at Chan Chich Lodge was wonderful.
At both Crooked Tree and Chan Chich, army ant swarms were encountered. The ant swarm at Chan Chich was attended by Gray-headed Tanagers, a Bright-rumped Attila, and a Gray-throated Chat. At Crooked Tree the group watched a marvelous group of twelve Yucatán Jays on the ground trying to catch the insects that were fleeing the ants. The group watched the jays for fifteen minutes, savoring the beauty of that scene.
As we wait for the crisis to pass, I want you to know that VENT is preparing for a bright future. Once we are able to move around unencumbered again, I suspect that people will be anxious to get back to traveling to wonderful places to see birds and nature. On that note, you will be pleased to know that we are now at work on our 2022 tour schedule. Please check our website often as our 2022 tours will begin to appear there in the coming weeks.
I hope you will join us on a VENT tour later in 2020 or 2021 and in 2022!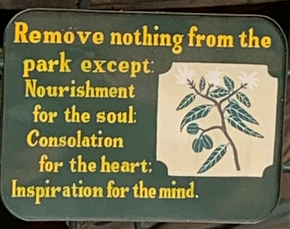 © Victor Emanuel
At some point this crisis will end. When it does, I know you will be eager to travel so that you can get back to enjoying the beauty and wonder that nature offers us. On a recent trip to Tanzania, I saw the following sign at Lake Manyara National Park. It expresses what being in nature does for us.
During this difficult time, I will confine myself to my house on the Bolivar Peninsula on the upper Texas coast watching spring unfold. I hope to see a Hooded Warbler, my favorite bird. I will be thinking of you and our tour leaders and office staff and hoping that everyone and their families and friends stay healthy.
Thank you for your continued support.
Best wishes,
Victor Emanuel